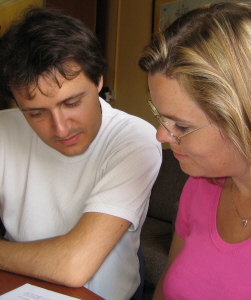 Private lessons
Have you come to Denmark thinking that your English skills were good? Just to find out that they could do with some improvement? Perhaps you are in Denmark as an exchange student or perhaps you have a job for a longer or shorter period of time? Regardless of your background and skills, I can help you improve your English skills — written or spoken.
I have an MA in Translation and Interpretation from Copenhagen Business School in 1998. I am experienced in both tutoring and teaching classes, the latter at Copenhagen Business School — always with great success. My students always feel that they have learned something when leaving my lessons and in general they achieve good marks at the exam. Also see comments from former students of mine at The student has the floor.
The tutoring takes place at my address where we go through the issues that are causing you problems. Partly we look at the theory, and partly you make exercises which I correct. If you have trouble with spoken English, we speak in English and expand your vocabulary, refine you pronunciation and improve your ability to express yourself in English. If necessary you will be required to do homework which I will correct and for which I will provide you with extensive feedback. We plan the lessons according to your needs. Please contact me to arrange a meeting without any obligations where we can discuss your specific requests and needs.
Andersson Groen Translation v/translatør Pia Rubin-Grøn • Hyrdeengen 363 • DK-2625 Vallensbæk • Tel. +45 32 95 83 22 • Mobile +45 22 40 34 06 • info@agt.dk
© Andersson Groen Translation