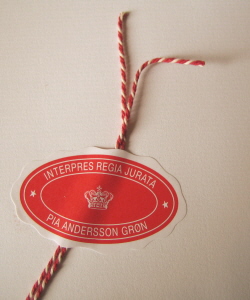 Legalised translation
In order for a translation to be legalised in Denmark it must be translated by a state-authorised translator who confirms with his/her seal of office that the translation is a true and faithful translation of the original document. Then the translation is sent to the Danish Ministry of Foreign Affairs to be legalised which means that the Ministry certifies that the state-authorised translator is in fact authorised to translate official documents. Next, the translation may need to be legalised at the embassy of the country in question so that the authorities in that country can see that the Danish Ministry of Foreign Affairs is authorised to legalise the signature of the state-authorised translator.

Whether the translation needs to be legalised at the embassy depends on whether the country in question has acceded to the so-called Apostille Convention, which Denmark acceded to on 1 January 2007. If the country has acceded to the Convention, legalisation of the certified translation at the Danish Ministry of Foreign Affairs will suffice. You may find a list of the countries that have acceded to the Convention here. If you need to have a translation legalised, Andersson Groen Translation will be happy to assist you with this legalisation procedure.
Not everybody can take the title of state-authorised translator as they see fit as it is a protected title. To be able to enjoy the title, you need to pass the master exam at Copenhagen Business School in the language in question. If you pass, you may apply for the official appointment as state-authorised translator at the Danish Commerce and Companies Agency. Once you have that, you may use your seal of office to certify your translations and at the same time you are bound to observe professional secrecy.
Andersson Groen Translation v/translatør Pia Rubin-Grøn • Hyrdeengen 363 • DK-2625 Vallensbæk • Tel. +45 32 95 83 22 • Mobile +45 22 40 34 06 • info@agt.dk
© Andersson Groen Translation